His Grandfather's Piano
Oil / 16 x 20 in
Summer 2018 we had the pleasure of painting at an Italian family retreat outside Bergamo. This is their music room, painted from life.
Available at Cutter and Cutter Fine Art, St. Augustine Florida
Virtuosos of Oil Painters of America AWARD OF EXCELLENCE from juror Daniel Green
Stripes of Montereggi
Caldine
Oil / 7 x 13.2 in
Available
Evening Shadows, Caldine
Entrance to Montereggi
Oil / 8 x 11 in
Available
Wall of Cypress
Oil / 7.75 x 13.7 in
Available
Fields of Montereggi
Vineyards of Montereggi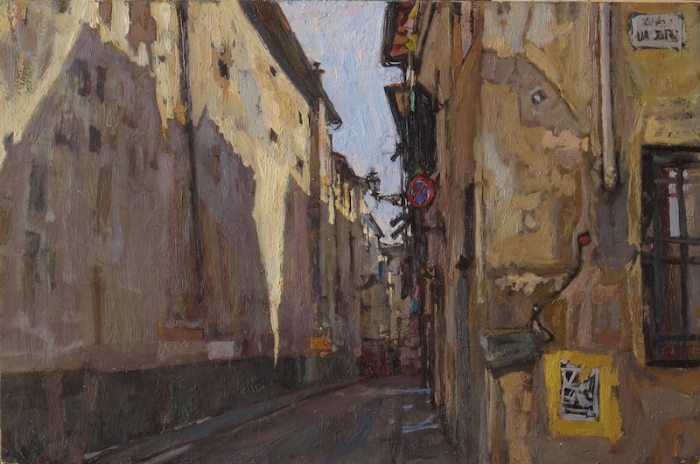 Streets of Santo Spirito
Oil / 7.75 x 11.75 in
Private Collection
High Passage
Oil / 11.75 x 7.75 in
Available
Cosimo's Bridge
Ponte Santa Trinita
Oil on Wood Panel / 7 x 13 1/8 in
For this view I stood by the summer-fragrant trash cans of one of Firenze's famous gelaterias, because I loved the silhouette of the statue against the skyline.
Available
Fragments of Venice
Counterpoint in Carmine
Oil / 10.1 x 13.75 in
Available
View to San Lazarro degli Armeni
Gondolas
Oil / 15 x 39 inches
Available
View from Vasari Pass
Textures of Florentine Streets
Oil / 7 x 13.2 in
Available
Moroccan Fountain, II
Oil / 15.75 x 8.75 in
Available
Antonio's Fields
Oil on Linen/ 16 in x 36 in
This scene reminded me of Siena, Italy, which also has golden fields, striped from the tractors' tires, and the intricacies of the warm-to-cool colors.
Available
Studio of Yuri Kalyuta
Oil / 22 x 30 inches / Available
A friend from Academy days, Yuri is now a professor at the Repin Institute.
The Corridor, Montereggi
The Billiard Room
Oil / 16 x 20 in
Available
Studio of Nikolai Blokhin
Oil / 35 x 35 in
Blokhin's portrait of artist Hamid Savkuyev is on the right of the canvas.
Available
Pueblos Blancos, II
Oil on Panel / 16 x 16 in
Available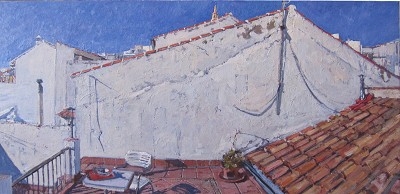 Pueblos Blancos
Oil / 20 x 40
Collection of the artist's wife.
Preparations
Oil on Panel / 15 x 23 in
Interior of the Royal School of Andulusian Riding
Available
Mast
Frenchboro Harbor
Oil / 18 x 36 in
Private Collection
Harbor Afternoon
Oil / 15 x 44 in
Private Collection
Thistle
Oil / 22 x 30 in
Private Collection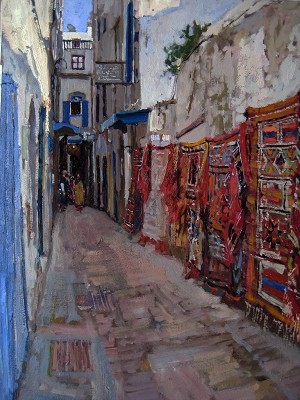 Rugs and Tapestries of Essaouira
Oil / 14 x 11
Private Collection
Blue Boats
Oil / 16 x 20 in
Private Collection
Moroccan Fountain
Oil / 78 x 39 in
Collection of the artist's wife
Chapel, Old Walls
Oil / 10.6 x 13.7
Private Collection
Herd
Oil / 24 x 30 in
Near Salida and Buena Vista, Colorado
Private Collection