Wedding at Cana
Oil / 18 x 9 ft
Collegedale Seventh-Day Adventist Church, TN USA
The Fishing Miracle
Oil / 8 x 12 ft
I painted the Christ and disciples after the fishing miracle has already taken place, when calm has descended on the small group. Peter is the figure listening to Christ.
St. Peter Episcopal Church Hixson, TN USA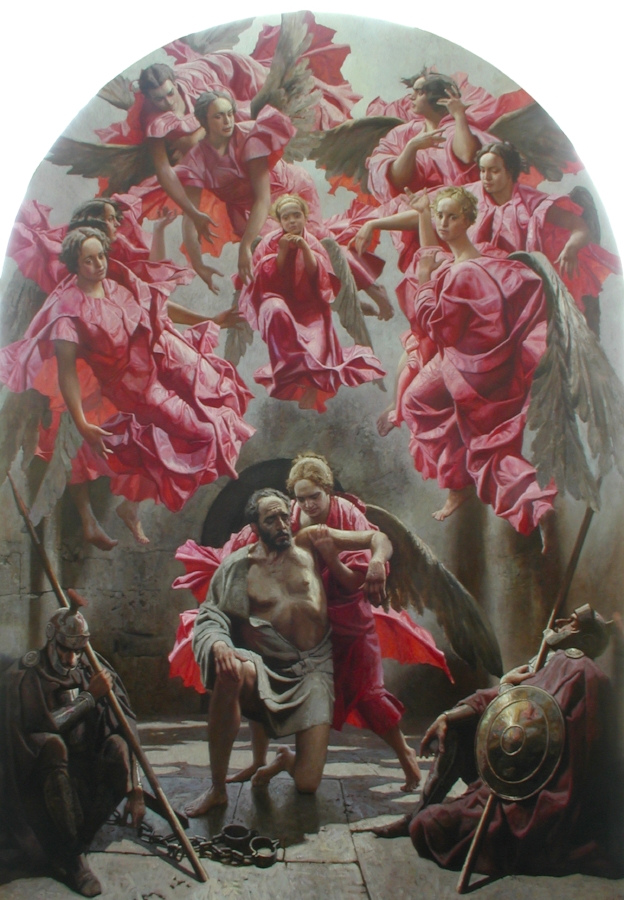 Peter Released from Prison by Angels
Oil / 10 x 8 ft
When I was designing this mural, I was combining opposites. For example, Peter is a tired, helpless man in this moment, and he is lifted by young and powerful female angels. The angels fly in open, illuminated space, where Peter was trapped in confined darkness.
St. Peter Episocal Church Hixson, TN USA
Angels and the Dove Ceiling Mural
Oil / 120 x 120 in
Private Collection
Frenchboro Non-Denominational Church Alterpiece
Acrylic and gold leaf on wood / 144 x 132 in
Property of Frenchboro Community, Maine USA